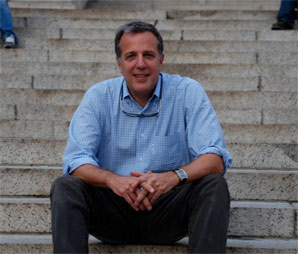 Alan Kingsberg has been teaching TV Writing at Columbia University since 1999. His students have written for 30 ROCK, WEEDS, KIMMY SCHMIDT, STRANGER THINGS, NARCOS, NEW GIRL, MOZART IN THE JUNGLE, SMASH and LAW AND ORDER. His class is now available to the public.
8 WEEK COURSE
In a clearly defined step-by-step process students learn how to write a SPEC SCRIPT or ORIGINAL PILOT. A spec script is for a TV show that is currently on the air and an original pilot is for a TV series you create. A great spec script and pilot are what you need to get a job as a television writer.
After you select a show, you will learn how to brainstorm story ideas, structure an outline and write scenes with dialogue, all in a constructive, supportive workshop atmosphere. The class covers both 1/2 hour comedies and 1 hour shows.
Class size is small, 9-12 students, so there is plenty of individual attention. The course is designed to make you a better TV writer and prepare you to take on your first professional TV writing job.
Meets for 8 sessions, 2 1/2 hours per session. Click below for dates and times of Available Classes.
AFTERNOON SEMINAR
Also being offered is a one–session 4 hour intensive seminar on How To Break Into TV Writing. Topics include brainstorming story ideas, writing TV scripts that sell, and how to build a portfolio to get an agent. This class is designed to jumpstart your creativity, teleplay and career. Valuable for both the beginner and the experienced writer. Each student can bring a story pitch or five pages of a script (either pilot or spec) and get individual feedback from Alan and the class. Special guest star appearances have included writers and producers from 30 ROCK, COMEDY CENTRAL, SMASH, LAW AND ORDER, SEINFELD and FOX SEARCHLIGHT. Click "Available Classes" below for current list.
ALAN KINGSBERG
In 1999, Alan Kingsberg created the popular TV writing workshop at Columbia University's Graduate Film School where he taught TV Writing and Advanced TV Writing to Columbia MFA students for seventeen years. His students have won many national contests including multiple first place prizes at the Austin Film Festival, The Academy of Television Arts and Sciences and The Made in NY Fellowship, an HBO Writing Fellowship, a Fox Writers Intensive Prize and a Humanitas Award, all with scripts written in his workshops.
Alan's students have gone on to write for 30 ROCK, WEEDS, KIMMY SCHMIDT, STRANGER THINGS, NARCOS, MOZART IN THE JUNGLE, ORPHAN BLACK, NEW GIRL,EXTANT, THE ORIGINALS, ODD MOM OUT, WANDER OVER YONDER, SMASH, THE DETOUR, LAST MAN STANDING, LAW AND ORDER, VEGAS, ALPHA HOUSE, ONION NEWS NETWORK, CONAN O'BRIEN, and CALIFORNICATION.
Alan has written for numerous network and cable shows including NBC's "Law and Order: Criminal Intent" and Nickeloden's "Are You Afraid of the Dark?" He has been a show runner on five animated TV series including the hits "Winx Club", "Pokemon" and "Cubix". As a show runner he produced or wrote over 220 half hour episodes. Alan is now Head of TV Writing at Stony Brook/Killer Films MFA program in Manhattan.
TESTIMONIALS
"Alan is a phenomenal teacher, who taught me everything about TV writing, from story structure to dialogue. In his class, I wrote and revised the scripts that launched my career in the industry." –– Vanessa Reisen, Supervising Producer, WEEDS, CALIFORNICATION.
"I went into Alan's Workshops clueless and came out with a pilot script that sold to HBO. I landed an agent at CAA and I'm now working with an amazing team of managers and producers.†† Alan genuinely loves†teaching and giving†his students the tools and confidence they need to†launch†their TV careers." – Natalie Prisco, Show Creator/Writer, HBO.
"Alan has some kind of Jedi genius for feedback.† Heís lightning fast and right on target.† This class was invaluable.† †In all my years working in entertainment, Iíve never come across someone whose notes are as specific and helpful." – Eden Wurmfeld;†Producer: KISSING JESSICA STEIN, THE HAMMER.
"The script I wrote in Alan's class won first prize at the Austin Film Festival, secured me an agent, and got me my first feature screenwriting job at Fox Searchlight Films." Martina Broner, Writer/Producer.
"With Alanís guidance, I built the portfolio I needed to get into NYUís MFA program in Dramatic Writing. Alanís emphasis on character, story and structure gets TV Writing into your bones." Nina Braddock NYU, MFA Ď15
"Alan inspires you to write. He is straightforward and clear. When you take his class, you'll end up writing a spec script for a TV show. He is the real deal." Beth Einhorn, Writer: THE TONIGHT SHOW.
"The Scrubs Spec I wrote in Alan's class won the Humanitas award ($10,000). Alan's class prepared me to work successfully in the industry." Chris Carlson, Editorial Director, SPIKE TV
---